How to Smoke a Pork Loin on a Pellet Grill - Best Smoke Pork Loin Recipe
If you are looking for flavor with a capital "F" then look no further than a smoked pork loin, carefully marinated for around three hours and then smoked to perfection on a pellet grill. You simply have to try it: your tastebuds will thank you! Pork loin on a pellet grill – a marriage made in culinary heaven.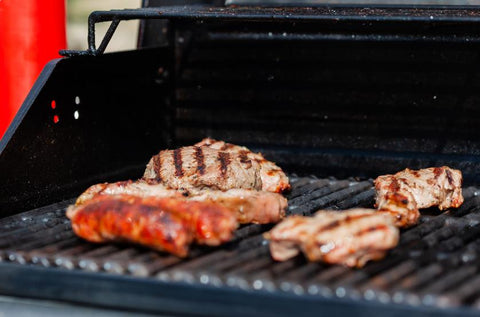 Best of all, it's super simple to do and perfect for just about every occasion – from Christmas lunch to Monday night dinner. So, how do you grill pork loin on a pellet grill? Read on to find out.
Is pork loin different from pork tenderloin?
Yes - pork tenderloin, is a smaller cut of pork that is in the lower part of the loin and flank. Pork loin is taken from either side of the backbone and is relatively affordable. Pork loin, especially when smoked, is soft and succulent, and bursting flavor.
What ingredients do I need to make smoked pork loin?
When it comes to ingredients, you really have a wide range of options. Our favorite way to prepare smoked pork loin is in a honey, apple juice and sugar marinade, which is the recipe we've included at the end of this guide, but if that's a little too sweet for you, you can always use a rub.
Rubs come in all varieties, so keep it simple with garlic, salt and pepper and a touch of chili powder if you haven't tried another rub with pork before.
Whenever you buy meat, try to buy the best quality you can buy. The better the quality, the better the flavor almost without exception. The good news is that pork is usually more affordable than beef cuts of a similar size, so you can get a lot for your money.  
What equipment do I need to grill pork loin on a pellet grill?
Fortunately, you don't need a lot of equipment to smoke pork loin on your pellet grill. You'll need a quality pellet grill for best results, so while you can make do with a smoker tube and a gas grill, you'll miss out on the ease and flavor a pellet grill can offer.
You'll also need cooking tongs or similar for handling your pork loin, and a meat probe if they aren't built into your pellet grill.
What's the best pellet grill to use?
Any Z Grills grill will help you achieve best-in-class results – most of our grills come with PID controllers for perfect temperature control, whether you're cooking for 10 minutes or 10 hours. Most of our grills with built-in internal probes will make grilling easier than you ever thought it could be.
We recommend our 450 or 550 grills for beginners, with the 550B pellet grill standing out as the favorite, since it offers you 8-in-1 grilling and all the quality of our larger grills, but in a more compact space.
If you've got some grilling experience under your belt, we suggest upgrading to our Master 700E – it's one of our most popular grills.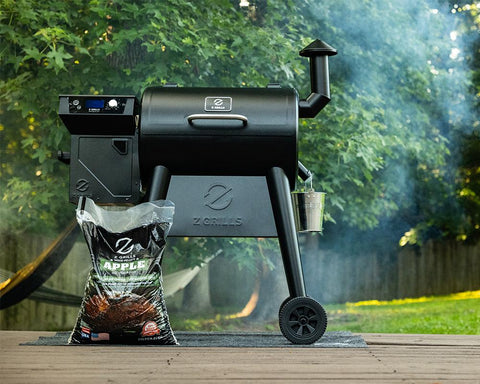 What temperature should you smoke pork loin at on a pellet grill?
The perfect temp for smoke pork loin is 225F.
What is the ideal pork loin smoke time?
This will vary depending on the size of your loin, but the ideal pork loin smoke time is about 3 hours for 9lbs. Smaller cuts will take less time, so make sure you are guided by the internal temperature one you get close to the end of the cooking time.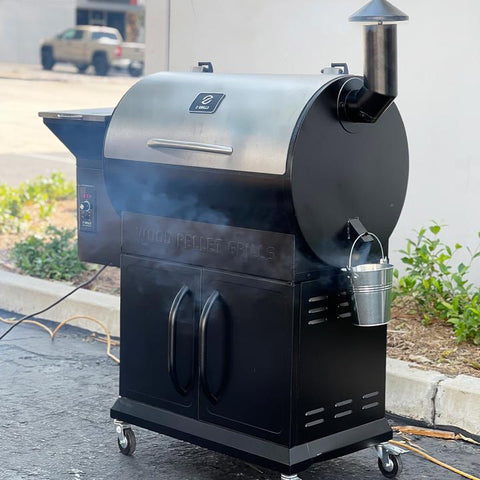 What is the right internal temperature for pork loin?
Pork loin is ready to eat when it reaches an internal temperature of 145F.
Trust your meat probe here, don't do it by looks or guesswork. A lower temperature will mean the meat is not correctly cooked and if the temperature rises much above 150F you risk having a tough, dried-out pork loin on your hands.
It can be tempting to do it by color, but you'll find that when pork looks done, it's overdone. Usually when it reaches an internal temp of 145F, there will still be a slight blush to the meat.
How to Smoke Pork Loin – Smoked Pork Loin Recipe
Gather your ingredients together and make sure your pellet grill is ready to go (just don't turn it on yet!). There are a huge number of recipes out there, but this recipe is our go-to.
It is going to take around 6 hours from start to finish so make sure you have enough time.
That said, most of the time is taken up with refrigeration, cooking, and resting, and if you're in a pinch, you can skip the marinating step and get it all done in about 3.5 hours. In this recipe, we recommend marinating for 3 hours, but you can also leave it overnight if that suits you better.
There's not really much work required with pork loin and plenty of time to make the sides.
Ingredients
1 pork loin of around 8-9lbs (this will make about 12 servings, with each person getting ¾lbs)
2 cups apple juice
1 cup brown sugar
½ cup honey
½ cup the rub of your choice (or use: 2 tsp paprika, 2 tsp chili powder, 2 tsp garlic powder, plus salt and pepper to taste)
¼ cup dried oregano
Instructions
Mix the apple juice, sugar, honey and rub and heat in a saucepan for a few minutes until the sugar has dissolved. Leave to cool.
Trim off excess fat from the pork loin (if necessary).
Either remove the fat cap entirely (gives you more surface area for flavor from your rub, making sure to leave around 1/4"-1/2" of fat in place, ORif you prefer to leave it on, score the fat cap into diamonds by using a knife diagonally in two directions.
Place the prepared cut in a deep dish and pour over the marinade. Chill for 3 hours, turning occasionally.
Preheat your smoker to 225F.
Place the pork loin directly on the grates and cook until the internal temperature reaches 145F. This will take 2 ½ – 3 hours but depends on the size of your loin.
Let it rest at room temperature under foil for 30 minutes.
Cut and serve.
Do I need to brine my pork loin?
Some people do, but it's usually not necessary, and more personal choice. Unless you're planning to smoke a truly monstrous piece, or dialing up the temperature, your marinade will be more than enough to keep your pork moist.
What pellets should I use for smoked pork loin?
Pork is always best with fruity flavors, so Apple or Fruitwood are favorites. Make sure you buy good quality pellets like ours, as they will burn more evenly and give better flavor.
What are the best ways to serve smoked pork loin?
Smoked pork loin is one of the best meats to serve with roasted potatoes and other vegetables, but you're certainly not limited to that! Other delicious ways to serve smoked pork loin are:
With mash potatoes, roasted or sauteed veggies, and coleslaw (though any form of potatoes is good!)
With Cheese Grits Casserole and green beans
With mac n cheese and a side of roasted cauliflower
With baked potatoes (try them smoked for more flavor!)
If you're meal prepping or looking for a way to use up leftovers, you can use it in:
Sandwiches
Pasta dishes
Stews
Salads
Sliced and reheated with eggs
Any leftovers will need to be refrigerated in an airtight container for up to three days or frozen. It can stay in your freezer for around three months.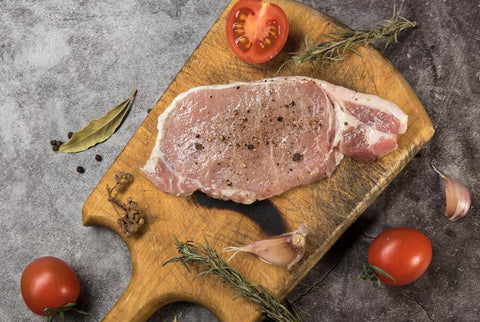 Follow this advice and enjoy one of the best meals of your life, one you will want to have again, and again, and again… Pellet grills have become so popular because they produce unique flavors and textures that let pork (and beef, lamb, chicken, and veggies) shine.
If your pellet grill is a little old or not giving you the results you're looking for, it's likely time for an upgrade. Our grills have gained so much popularity because they give you sensational quality and results at direct-from-manufacturer prices. If you're ready to join the Z Grills family and up-level your grilling experience, it's time go get your hands on a Z Grills grill. Click here to find your new grill and browse our current deals.
---