How to Grill Filet Mignon on a Pellet Grill to Perfection
Ready to learn how to grill filet mignon to perfection? There are few better places to grill filet mignon than on a pellet grill – not only do you get hands-free accurate temperature control, but the wood-fired flavor it infuses into your steak is out of this world!
The good news is filet mignon takes very little time to prep and cook, so makes the perfect dinner for a night in or to serve all your friends next time you have them over. In this guide, we'll take you through everything you need to know to ensure your next filet mignon is grilled to wood-fired perfection. Let's dive in!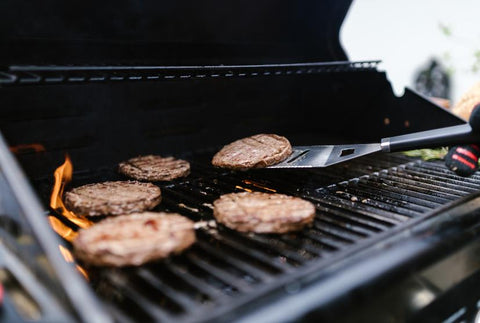 What exactly is a filet mignon?
Let's bypass the fancy name for a moment (though feel free to feel as fancy as you like when you eat it!) and explain exactly what this cut is. A filet mignon is a cut of beef that is melt-in-your-mouth tender with a mild flavor. It's ideal for special occasions and always impresses, but you can totally enjoy it any night of the week. It's cut from the tenderloin, which is the area below the back, just in front of the rump of the animal.
What ingredients do I need to make filet mignon?
To make the steak itself (and not any sides), you really need very little to make this cut sing on the tastebuds. We like to keep it to salt, pepper, a little garlic (minced is best, but powder works too), and some butter. We'll dive into a full filet mignon grill recipe shortly.
What equipment do I need to make filet mignon?
You'll need a grill (a pellet grill in this case, since that's what this guide is all about), cooking tongs or similar for handling the steaks, and a meat probe if your pellet grill doesn't have them built-in.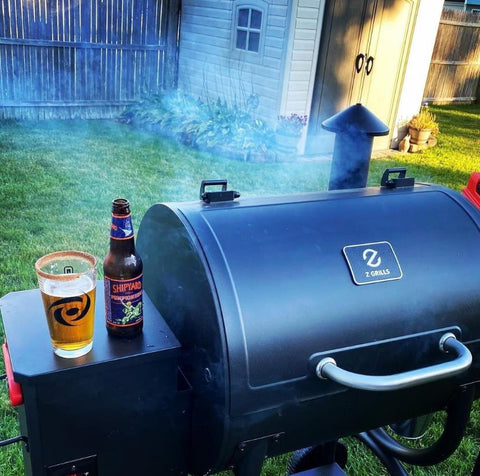 What's the best pellet grill to use?
Any of the Z Grills range will be the best pellet grill to use, since most of our grills come with PID controls for serious temperature control and will infuse your food with flavor, even over such a short cooking time. While any of our Z Grills pellet grills will get you incredible results, ones with built-in temperature probes will make your job even easier.
You can buy additional remote temperature probes for a standard pellet grill, or just use a handheld temperature probe if that's all you have to hand, though you may lose a little quality compared to if you had an internal probe.
If you are a beginner and don't want to invest a huge amount in your first pellet grill, our 5502H pellet grill is the perfect starter grill, offering you 8-in-1 cooking while being easy to store away.
If you've been grilling for a while but making do with a gas or charcoal grill, a grill like our Master 700E will be your new best-ever purchase!
Of course, we have a wide range of grills available, so you're spoiled for choice and will be able to find the ideal grill for your needs.
What temperature should you grill filet mignon at on a pellet grill?
Unlike so many other things we cook on our pellet grills, a filet mignon is all about high temperature for a short time, so you need to preheat your pellet grill to 450F.
If for any reason the grill you're using doesn't have a maximum temperature this high, you can still get great results at 350F, it will just take slightly longer for them to reach the right internal temperature.
The right filet mignon grill temp: 450F (350F if you don't have that range).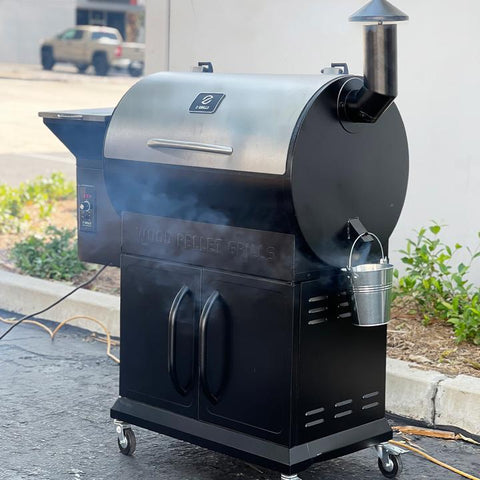 How to Grill Filet Mignon
Set your pellet grill to 450F and gather your ingredients – it's time to grill your filet mignon! The recipe below is for 4 people (one steak each), so adjust the ingredients as needed.
The ingredients you need are:
2 tsp salt
2 tsp black pepper
4 cloves of minced garlic (or 1 tsp garlic powder)
6 tbsp butter (softened, adjust to your preference)
4 filet mignon steaks
Steps to Grill Filet Mignon
In a bowl, combine all the ingredients besides the steaks themselves until well mixed.
On a chopping board, lay out your filet mignon steaks and rub or brush some of the mixture onto the top of the steaks.
Flip the steaks and rub or brush the mixture onto the other side.
Let the steaks sit for 5-15 minutes.
When your grill is at 450F, lift the lid and place the steaks directly on the grill grates.
Cook for 3-8 minutes on each side depending on your preferred doneness (see the guide below).  
When the internal temperature of the steaks reaches 135F, they're done, so cook to your desired doneness if beyond this and then remove.
Remove from the grill and let the steaks rest for 8-10 minutes so the flavors settle in the meat, and then serve!
How long should I grill a filet mignon for?
Follow the guide below for your preferred doneness:
Rare – 4-6 minutes a side
Medium-rare: 5-6 minutes a side
Medium: 6-8 minutes a side
Medium-well: 8-10 minutes a side
Well-done: 12 minutes a side
What type of pellets should I use for filet mignon on the pellet grill?
Since filet mignon is on the grill for such a short time, we love using deep-flavored wood pellets, like Hickory or Oak.
However, if you're serving a crowd and you're not sure what everyone will like, you can choose a milder flavor and still get delicious results.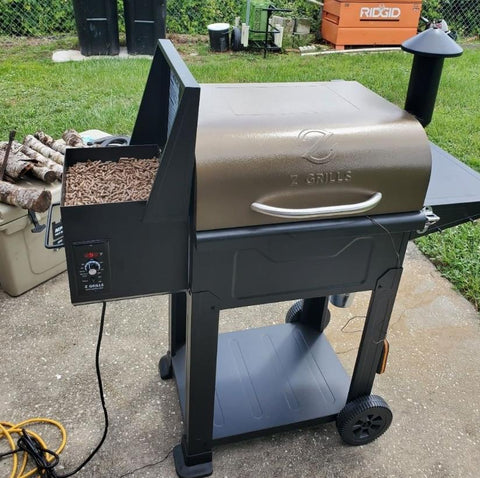 What are the best ways to serve filet mignon?
A filet mignon is an extremely versatile steak you can use in a wide range of dishes. Here are a few of our favorites:
With garlic and butter pan-fried asparagus- serve alone for a super low carb meal or add some fries.
With a side salad or chopped up on a salad– this is another low-carb option and is great for those of you that meal prep for work. Caesar and Wedge salads work particularly well.
With steak frites – this literally means "with fries" so look for thick-cut fries, or make your own. Serve with fried asparagus, fried mushrooms, or any other veggies that take your fancy.
With a fully-loaded baked potato – this is a staple at steak restaurants so bring it to your dining room with as many (or as few) toppings as you like.
With mac 'n cheese, cauliflower cheese, or broccoli cheese– all three of these are good options, but just know you'll feel well and truly stuffed when you're done!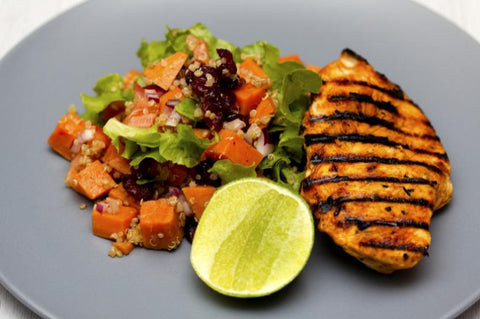 So, what are you waiting for? It's time to head to the store to get your ingredients so you can grill up a storm ASAP. If you find your results are lacking (in flavor, texture, or anything else), it may be time to upgrade your grill – especially if you're still making do with something other than a pellet grill. All our Z Grills customers sing the praises of their grills because they make it so easy to cook out-of-this-world food at home. Seriously, forget your restaurant budget, because you're going to want to eat in!
To explore our range of Z Grills and find the best pellet grill for you, click here is see our latest deals.
---