How to Grill Scallops: The Complete Guide for 2022
If you want restaurant-quality grilled scallops at home, then you need to try this fast and easy smoked scallops recipe complete with lemon garlic butter. This is the best scallops recipe you'll ever find—and we include everything you need to know about how to grill scallops!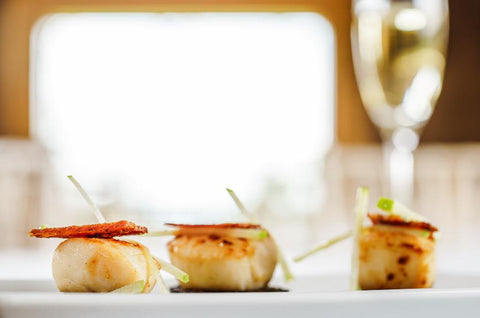 Quick Navigaction
How to Buy and Clean Scallops
Before we dive into how to grill scallops, you need to know what to buy for making scallops on the grill
Buying Guide for Scallops
Scallops are sold both "wet" and "dry," but you always want to get the dry kind. Wet scallops are treated with preservatives which affect their taste and texture negatively.
If you can, buy fresh scallops over frozen. Fresh scallops have the best taste and texture.
When shopping for fresh scallops, you want to buy scallops with a uniform pearly white color without any obvious damage.

Starting out with high-quality, fresh, dry scallops will ensure that you make the best scallops recipe you've ever tasted.
How to Clean Scallops
To clean scallops, start by patting them dry with a paper towel. Then, pull off the small piece of muscle that hangs on one side. This tough muscle should peel away easily. Some scallops are sold without the extra muscle, so you may be able to skip this step.
That's it! Now, your scallops are clean and ready to grill.
Equipment and Ingredients for Grilled Scallops
Here are the ingredients and equipment you'll need for this scallops on the grill recipe.
Ingredients Needed
Scallops
Fresh garlic
Fresh lemons
Unsalted butter
Kosher salt
Vegetable oil
Equipment Needed
Z Grills Pellet Smoker
Z Grills Wood Pellets (we recommend using this type)
Measuring spoons
Small saucepan (with a heatproof handle)
Paper towels
Basting brush
Skewers
Why Choose Z Grills Pellet Grill and Wood Pellets
When making the best scallop recipe you've ever had, you need to make sure you're using the best grill equipment possible.
Z Grills Pellet Smokers
To make these grilled scallops, we highly recommend using a  Z Grills pellet smoker, specifically, the Flagship 700D4E, which features two distinct heat zones with a superior structural design, improved temperature control, an LCD screen, and easy pellet cleanout system.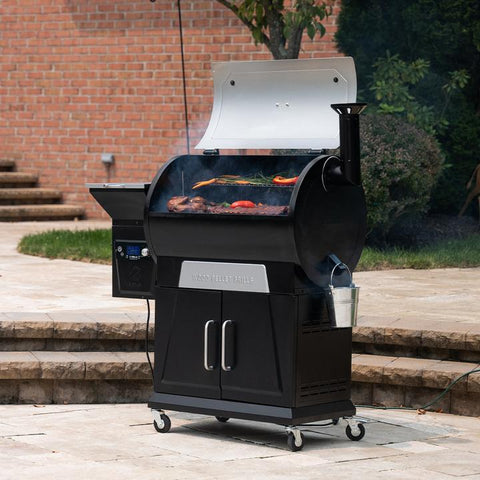 All Z Grills pellet smokers:
deliver authentic wood-fired flavor
provide precise temperature control
help you maintain control when grilling
are available at affordable prices and high quality
Our wide range of grills are designed for grillers of all experience levels, so you can rest assured that there's a perfect Z Grill for you.
Z Grills Wood Pellets
For this grilled scallop recipe, we also urge you to use Z Grills wood pellets. Our wood pellets:
supply dense, quality smoke
are American made
contain 100% all-natural hardwood with no additives
have a low moisture content
burn cleanly and efficiently
For these grilled scallops, we recommend using any Z Grills pellet recommended for seafood. That includes: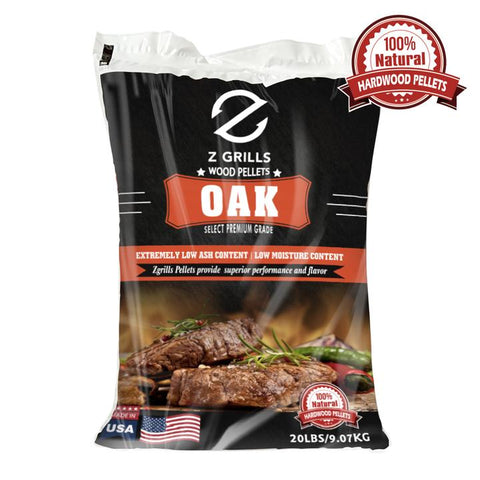 How to Grill Scallops on a Pellet Grill
Need a step-by-step guide for these easy grilled scallops? We've got everything you need to know right here.
Prepare the Scallop Skewers
These scallops on the grill are so easy to make. First, you'll create scallop skewers. To ensure the wooden skewers don't burn, soak them in water for one hour.
Then, you'll slide four scallops onto each wooden skewer. If the side muscle has not been removed from your scallops, you'll want to gently remove those before you skewer the scallops.
While you prepare your grill and your garlic butter, be sure to let the scallops rest in the fridge.
Make the Lemon Garlic Browned Butter
These scallops taste delicious on their own with the smokey flavor from your pellet smoker and a little bit of salt. But this lemon garlic browned butter really brings them to the next level.
Using a grill-safe pan with a heat-resistant handle, you'll brown the butter on the grill. As soon as you remove it from the heat, you'll add minced garlic and lemon juice. It's that easy!
If you prefer to prepare the browned butter in the kitchen rather than on the grill, you can modify this recipe.
Grill the Scallops
To make sure your scallop skewers don't stick, you'll need to brush the grill grates with olive oil. Then, it only takes about 6 minutes for your scallops on the grill to cook! Three minutes on each side should deliver tasty charred streaks and perfectly cooked scallops.
And that's how to grill scallops! It is as easy as it sounds.
What to Serve with Grilled Scallops
When pairing grilled scallops, you don't want to use anything too overpowering since the taste of grilled scallops is subtle.
Consider serving grilled scallops with:
rice
pasta
potatoes
green beans
cauliflower
Best Times and Temperatures for Grilled Scallops
Scallops are best cooked over medium-high heat for just a few minutes. You want the temperature range to be between 375°F-450°F. The internal temperature of the scallops should reach 145°F.
At this temperature, 3 minutes on each side is usually enough to grill the scallops.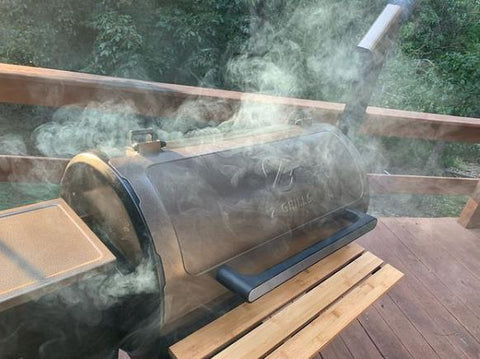 Lemon Butter Grilled Scallops Recipe
How Long to Grilled Scallops on a Pellet Grill
Prep Time: 10 minutes
Cook Time: 15 minutes
Total Time: 35 minutes
Serves: 4 people
Ingredients
16 medium dry sea scallops (about 1 lb)
1 clove of garlic, finely minced
1 1/2 medium lemons
1/2 stick of unsalted butter
1/2 tsp kosher salt
1 tbsp vegetable oil
4 wooden skewers
Instructions
Prepare the wooden skewers by soaking them in water for one hour.
Preheat your Z Grills pellet smoker to two distinct grill zones: one medium (325°F-350 °F) and one medium-high (375°F-450°F).
While your pellet smoker preheats, prepare the scallops. Gently peel away the side muscle from each scallop, if needed. Pat scallops dry with paper towels.
Carefully thread four scallops onto each skewer and place them in the fridge.
When the grill is preheated, place a small saucepan over the medium heat zone. Add butter to pan and cook, occasionally stirring, until the butter is brown and nutty (4-5 minutes).
Remove from heat and immediately add minced garlic and the juice from half a lemon. Season to taste with kosher salt and more lemon juice. Set aside.
Prepare the grill grates over the medium-high heat zone by rubbing them with a paper towel soaked in vegetable oil.
Lightly brush the scallops on both sides with vegetable oil. Then, lightly salt them with ½ tsp of kosher salt.
Grill uncovered until you see dark grill marks on the bottom of the scallops (about 3 minutes). Then, flip and grill for 2-3 minutes more until the scallops are just barely cooked through.
Transfer scallops to a serving platter and drizzle with the lemon garlic butter. Serve with lemon wedges.
Conclusion: Grilled Scallops Tips and FAQs
That's all there is to grilled scallops! With this best scallops recipe, you're ready to impress. Still have questions? We've got answers.
What do scallops taste like?
Scallops have a subtle fishy and nutty flavor with a naturally buttery and tender texture. The flavor is unique and delicious!
What happens if you overcook grilled scallops?
Like most seafood, scallops will gain an overly chewy texture when overcooked. This results from a lack of moisture and is unappetizing.
Are smoked scallops good?
Yes! Smoked scallops are amazing, but you need to be careful not to over-smoke them. Use a light wood recommended for seafood.
---