MAPLE BOURBON PORK BELLY BURNT ENDS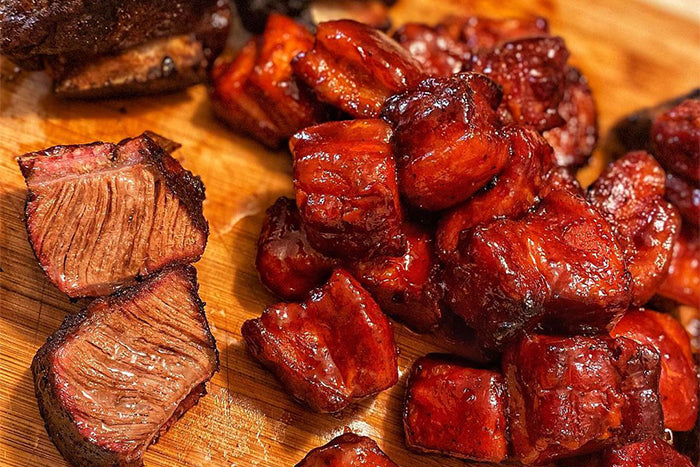 Take yourself to flavor town with these smoked pork belly burnt ends. These burnt ends are the most flavorful, incredible piece of meat you can think of.
INGREDIENTS
Pork Belly:
2 lbs of Pork Belly cubed
Maple Bourbon Seasoning
½ cup of Brown Sugar
6 tbsp of Butter
Oil as needed
BBQ Sauce:
⅓ cup of your favorite BBQ sauce
2 tbsp of Maple Syrup
2 tbsp of Bourbon
INSTRUCTIONS
Lather your cubed pork belly with oil then thoroughly season with Maple Bourbon seasoning or your favorite pork rub. Set in the fridge for 1-2 hours.
Preheat your Z Grills pellet smoker to 250 °F.
Add your pork belly onto the smoker and cook for 2.5 hours. Once done, pull off and place in an aluminum foil pan. Then top with butter and brown sugar. Place back in the smoker for 1.5 hours or when their internal temperature is 205 °F.
Heat your BBQ sauce along with the maple syrup and bourbon. Simmer over low heat until thick (about 10 minutes).
Lather your pork belly in BBQ sauce. Crank up the heat in the smoker and let caramelize for 5-10 minutes.
---