Ingredients
1 Turkey
2 sticks of butter (1 stick for herbed butter and 1 stick for roasting pan basting)
1 celery stalk
1 carrot
1 - 14.5 oz. can of chicken broth
1 onion
2 Tbsp parsley (optional)
2 Tbsp rosemary (optional)
2 Tbsp sage
2 Tbsp thyme
1 orange, grated for zest
1 tsp salt and pepper
Preparation
Thaw turkey in the refirgerator for 24-48 hours.

2. Remove giblets from inside the cavity and rinse with cold water and pat dry. If desired, save giblets for the gravy or gravy may be made with pan drippings.

3. Most turkeys come with the legs trussed together. If they are not, tuck the end of the tail under and loosely tie the end of the drumsticks together. Tuck the wing ends under the bird.

4. Preheat the Z grills Wood Fire Grill to 350 degrees F.

5. If using fresh herbs to season butter, chop 2 Tbsp of parsley, rosemary, sage and thyme. Dry herbs may also be used instead.

6. Grate 1-2 Tbsp of orange zest.

7. Combine 1/2 C (1 stick) of room temperature butter, herbs and orange zest.

8. Generously rub herb butter underneath the skin directly onto the turkey breast. Rub external turkey with herb butter, salt and pepper.

9. If you want to stuff the bird, insert stuffing mixture inside the turkey cavity. Do not pack and allow extra time for cooking. Note: You can also add flavoring by placing 1 quartered onion, 1 chopped carrot and 1 chopped celery stalk inside the cavity. (1/2 orange optional)

10. Using a quality roasting pan with a rack, place the turkey on the rack, breast side up.

11. Pour can of chicken broth, 1/2 C of water and 1/2 stick of butter in the roasting pan.

12. For improved flavor and moisture, baste the turkey every 20 minutes to half hour with drippings from the pan. Do not baste during the last 1/2 hour to hour to brown the skin.

13. Insert thermometer in the center of the thigh, not touching the bone.

14. Cook until internal thigh temperature is 165-170 degrees F. The breast meat will cook more quickly. If the turkey is stuffed, check the stuffing temperature as well. The stuffing should be 160 degrees F.

15. Let rest for approx. 20-25 minutes, allowing juices to reabsorb.

16. Carve and enjoy!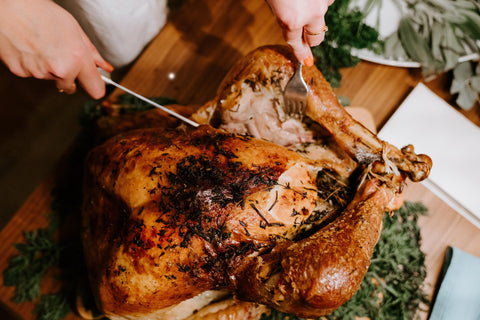 ---