SPECIAL OFFER Z GRILLS-1000C GET 10 BAGS OF WOOD PELLETS
Z GRILLS 2020 Model ZPG-1000C 8 in 1 BBQ Grill Auto Temperature Control(Rain Cover included)

Delivery in 3-7 business days


Ash clean out:
Z grills 1000C has an ash tray, you should clean it first. The ash tray purpose is to catch most of the ash produced by your grill. When the charcoal or wood burns above it, most of the ash will fall into this tray. To clean the ash tray, pull it out of your grill and dump the contents into a garbage bin or container made of a noncombustible material.

Pellet Cleanout Door:
The Hopper is equipped on the back with a Pellet Cleanout Door to clear the hopper of unused pellets so as to replace with fresh pellets or pellets of a different smoking flavor.
1.Place a bucket or bowl below cleanout door to capture falling pellets.
2.Turn cleanout door thumbscrew counterclockwise to unlock door.
3.Raise door all the way up. Pellets will fall through cleanout chute.
4.Once pellets have dispensed through chute, lower the door all the way down. Turn thumbscrew clockwise to lock door.

The grill features a bottom grill rack with large 432 sq inch cooking area as well as two additional mid and upper racks bringing the total grilling area to a massive 1060 sq inch. This stainless steel beauty is the Ultimate 8-in-1: Grill, smoke, bake, roast, sear, braise, barbeque, and char-grill. Set temperatures from a smokey 180°F to a high of 450°F. The upgraded digital control board auto ignites the grill and automatically manages the delivery of wood pellets to maintain the set temperature — no more babysitting the grill!

Clean and transport easily with a specially-designed waste oil collector and ash plate that conviently can be removed for easy clean up. It also sports caster wheels that lock in place.

The 1000C new high-temperature powder-coated finish prevents corrosion and offers a sleek and stylish finish.

3-year warranty guaranteed. For more details, please view our return policy.
Z Grills ships online orders within the continental U.S.. We do not ship to Hawaii or Alaska. We also do not ship to P.O. Boxes.
Orders can take up to 1 business day to process, and may not ship until the following business day. Deliveries take an average of 3 to 5 business days to arrive after orders have been processed.The ETA are affected by weather conditions and holidays.
Z Grills generally offers free shipping. Please check the product page for details on the item you wish to purchase.
Please note that if your grill has shipped out and there is an error on your address (made by you) or you just need to ship your package to another place we will have to charge you a $25 recall fee.
Z Grills wants to ensure our customer satisfied with their purchase. We accept the return of products that are defective due to defects in manufacturing or workmanship for 30 days from the date of purchase. All merchandise must be unused, unassembled, and returned in the original packaging.
We only accept returns from purchases made directly through our website: www.zgrills.com. For products purchased directly from our authorized dealers, please refer to their return policy and contact them directly for more information.
We do not accept returns on pellets.
After receipt, returned items will be inspected and a refund will be applied within 10 business days of receiving the returned product.
Both original and return shipping costs are non-refundable. We also charge a restocking fee. The total fees for original shipping and restocking. Return shipping fees vary depending freight carrier chosen. Customers will be responsible to arrange and pay fees for return shipping.
To initiate a return, please call our Customer Service department at 1-833-947-4557. Please provide your order number, date of purchase, and where you purchased your grill.
Any purchase made through Z Grills may can be cancelled within 24 hours of purchase. If you want to cancel your order, please call our Customer Service team within 24 hours of purchase. Any cancellation after 24 hours will fall under the Z Grills return policy.
Start Grilling With Z Grills
Z Grills Are Designed to Make Your Life Easy. Set It & Forget It. Naturally Adds Wood Smoke Flavor. The Features You Want without Breaking the Bank or Sacrificing Quality. Start Grilling! Free Shipping. Start-in, The Ultimate Experience.
You Can Grill, Bake, Smoke, Roast, Sear, Char, Braise & BBQ With Z Grills® Wood Pellet Grills. New Grills, New Accessories & New Flavors.
In the same price range, we have a larger cooking area and thicker materials. You can easily find the product specification online then make a comparison. There's no point in buying an expensive grill, Z grills makes your life easy.
100% natural hardwood pellets | Gives great flavor, burns cleanly, and produces little ash

High temperature powder coated lid | Heavy duty | Cleans easily to maintain a vibrant, new appearance
Rollerblade style wheels and locking casters | Easily move and lock your grill in place
20 lb. hopper capacity | Up to 20+ hours of continuous cooking
Pellet Clean-out Door equipped on the back of the hopper
110 Volt AC GFCI Outlet | NEC compliant safety standard
3 snag-free tool hooks | Keeps cooking tools at an arm's reach
5400 Cubic In | Solid bottom enclosed storage | It can store all your ingredients
1060 sq. in. cooking area | Enough headroom for multiple turkeys and beer can chicken


304 stainless steel heat deflector with integrated smoke tray | Evenly distributes heat throughout cooking chamber

SPCC drip pan | Funnels grease out of the cooking chamber into the drip bucket for an easy cleanup

Integrated heat vents | Protects electronics from heat

Modular construction | Allows for individual component replacement

Component access panel | Easily access components

Total Cooking Area

1060 sq. in.

Main Cooking Area

432 sq. in.

Warming Rack

374+255 sq. in.

Cooking Area

Hopper Capacity

20 lbs

Controller Style

Digital Controller

Electricity Rate

110V/60Hz/250W

Casters

heavy duty

Storage Cabinet

5400 Cubic In.

Warranty

3 years
Pellet Clean-out Door equipped on the back of the hopper

Reliable & professional undamaged delivery service

Exclusively Sale On Official website: zgrills.com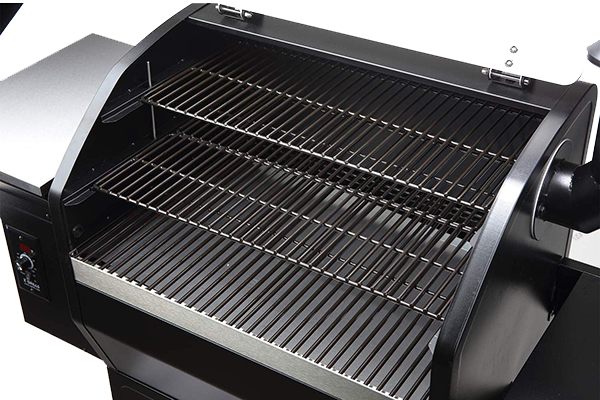 1060 sq. in. Three layers space of grill. this grill can cook anything from a dozen racks of ribs to a small whole hog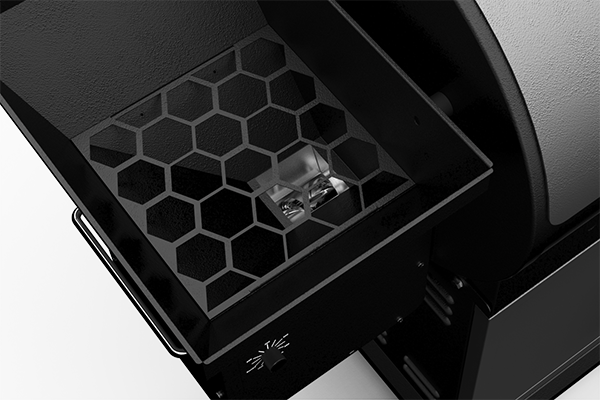 20Ibs.Wood pellet grills infuse your food with natural, wood-smoked flavors that you can't get from charcoal or gas grills.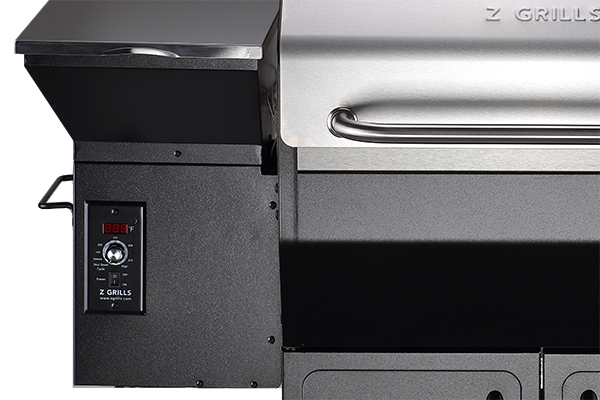 Designed for precise temperature management with a 180°-450°F range with 25° increment control.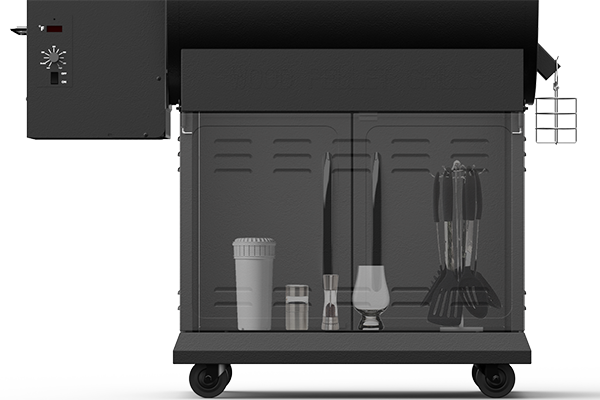 5400 Cubic In.Solid bottom enclosed storage.It can store all your ingredients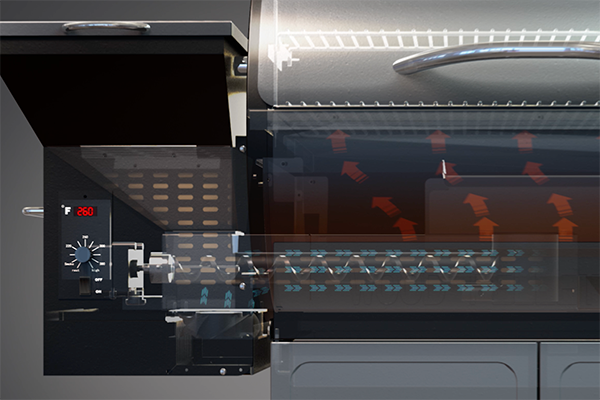 Includes a micro-adjusted variable speed fan and motor with increased RPM's to maintain a precise efficient feed of oxygen and pellets through the auger into the firebox.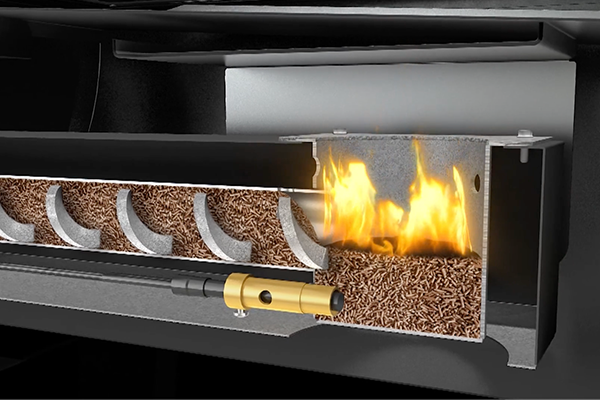 The Venturi-style design creates a burn pot cyclone of airflow for maximum heat distribution and complete combustion of the pellets with minimal waste.