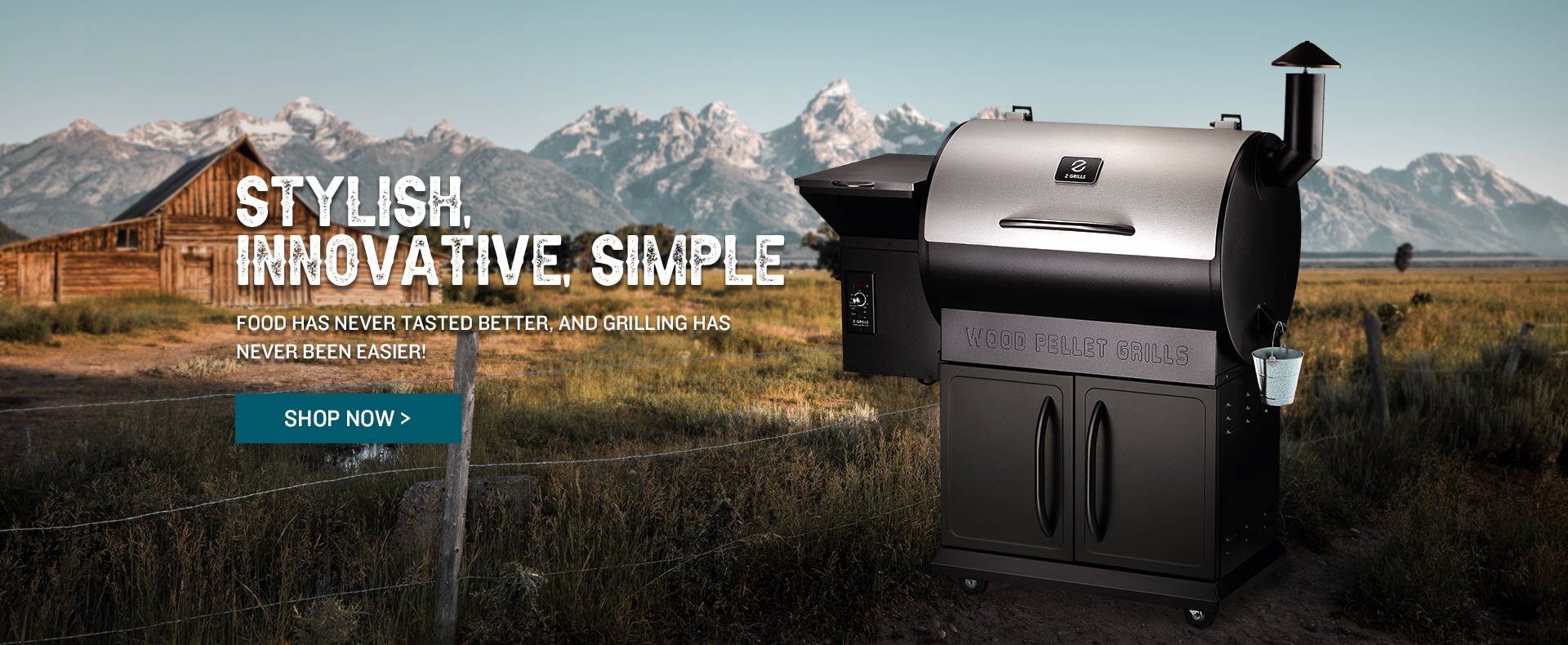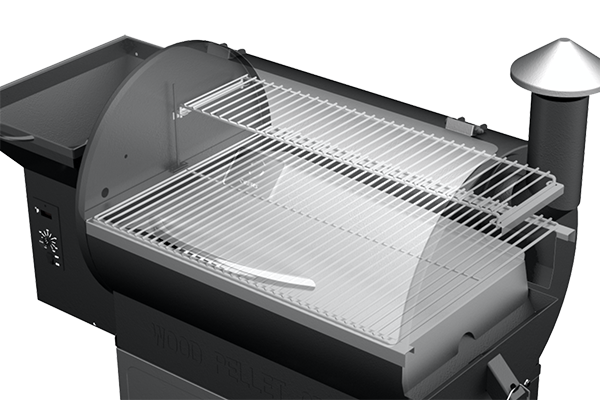 694 Sq. In. Grilling Area

504 sq in main rack & 190 sq in warm rack, 20lb hopper capacity that can accommodate up to 4 chickens, 5 racks of ribs or 35 burgers.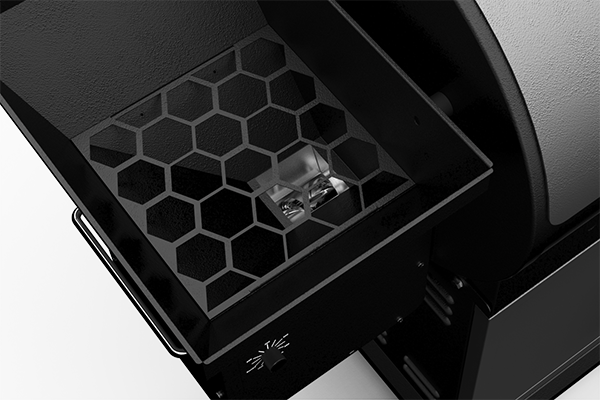 20Ibs.Wood pellet grills infuse your food with natural, wood-smoked flavors that you can't get from charcoal or gas grills.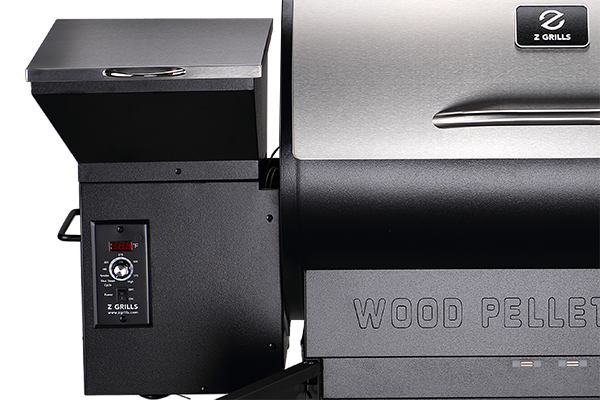 Designed for precise temperature management with a 180°-450°F range with 25° increment control.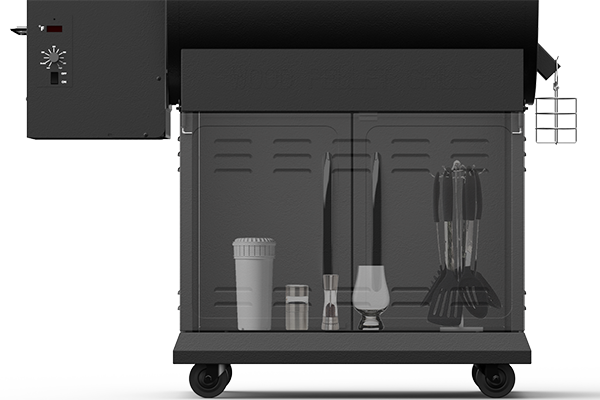 Large Cabinet for Storage
5400 Cubic In.Solid bottom enclosed storage.It can store all your ingredients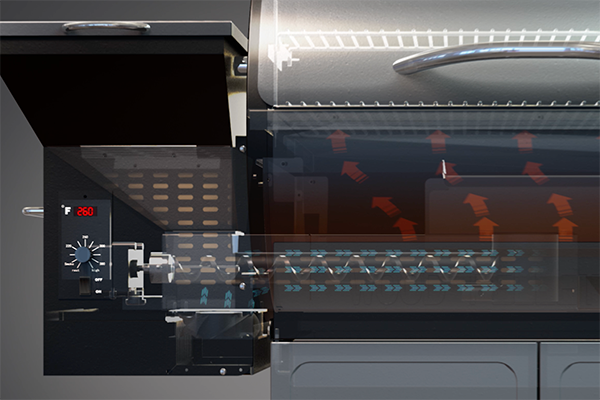 Includes a micro-adjusted variable speed fan and motor with increased RPM's to maintain a precise efficient feed of oxygen and pellets through the auger into the firebox.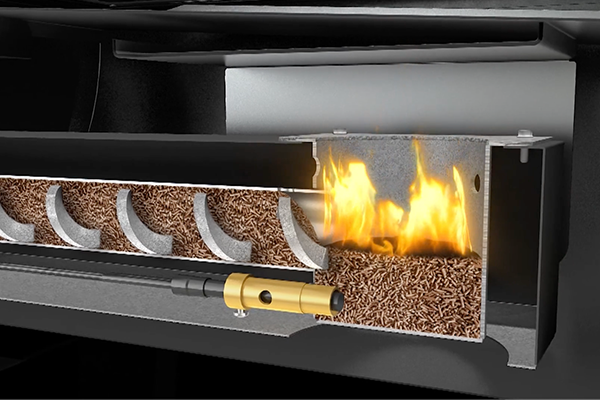 The Venturi-style design creates a burn pot cyclone of airflow for maximum heat distribution and complete combustion of the pellets with minimal waste.
IMPORTANT INFORMATION FOR YOU
Always start your grill on SMOKE setting with door or lid open.

Once you begin to see smoke (takes 2-3 minutes), close lid, set temperature to start the preheating of the grill.

If your grill ever runs out of pellets turn the grill off.

Please follow the initial firing instructions from the owner's manual,

When done using your grill always turn the temperature dial/knob to shut down cycle (this will leave the draft Induction fan running for 10 minutes to burn any excess pellets in the fire pot), after the fan runs for 10 minutes the controller will power off and the fan will stop running.
WHY BUY A WOOD PELLET GRILL?
Wood fire is a better cooking solution than gas & charcoal grills. Here's why:
1. Taste: wood naturally enhances flavor
2. Versatility: 8-in-1 grill, bake, roast, sear, braise, barbecue, char-grill, and smoke
3. Ease: no need to babysit, set & forget it
4. Consistency: cook like a pro every time
5. No flipping your food.
1. Proud American brand
2. High quality but affordable price
3. 33 years pellet smoker r & d and production(factory)
4. 50 years stainless steel production(factory)
5. 3 years warranty: all of the item sold by z grills have 3 years warranty
6. 30-day return guarantee: we want you to be fully satisfied with every item that you
I ALREADY HAVE A GAS OR CHARCOAL GRILL. WHY SHOULD I GET THIS GRILL?
Wood-fired food just tastes better. No other grills can match the versatility, ease, and consistency of a Z Grills. This is more than a grill. You can grill, smoke, bake (yes BAKE), roast, braise, and BBQ on our entire lineup of grills. Not all grills are created equal, ours just happens to be the best.
WILL EVERYTHING TASTE SUPER SMOKY?
Everything tastes better cooked over wood and our lineup of grills let you have complete control over your smoke. Not all temperatures are equal. The higher the temps, the less smoke will be produced. Food cooked 165° - 225°F will produce more smokin' flavor to fit your tastebuds than those cooked at higher temps.
HOW LONG DOES IT TAKE TO ASSEMBLE A Z GRILLS GRILL?
Got 30-60 minutes of time on your hands? That's all you'll need to assemble.
WHAT IS THE DIFFERENCE BETWEEN 700D / E?
The difference is that the E models (700 or 1000) come with stainless steel lids, where as the D model does not. The price difference is due to the better quality of lids, now of course both products are great quality but just the E series is a little bit better.
Our grills are built to last and we stand by it with our 3-year warranty. Experience any defects in material and workmanship under normal use and maintenance for a period of three(3) years from the date of original purchase? We've got you covered. And, if you have any questions about your grill, our seasoned experts have your back. We're here for you 365 days a year, including holidays.
REASONS TO BUY FROM ZGRILLS.COM?
1.More efficient and better customer services(Stand by 24h)
2.Comprehensive product accessories &product line
3.Support payment by instalments with Affirm
4.100% real reviews from customers
5.Instant delivery
STILL HAVE ANY QUESTIONS?
Phone:
833-ZGRILLS
833-947-4557
Investment Inquiries: info@zgrills.com
Support: support@zgrills.com