Invest in your backyard with Z Grills
SAVE UP TO $190

Grilling season is right around the corner. Get your patio and backyard BBQ ready with Z Grills. A Z Grills pellet grill is an epic investment in years of exceptional outdoor cooking. Now is the best time to invest one! Order now and SAVE up to $190 on pellet grills while receiving gifts worth up to $102.99!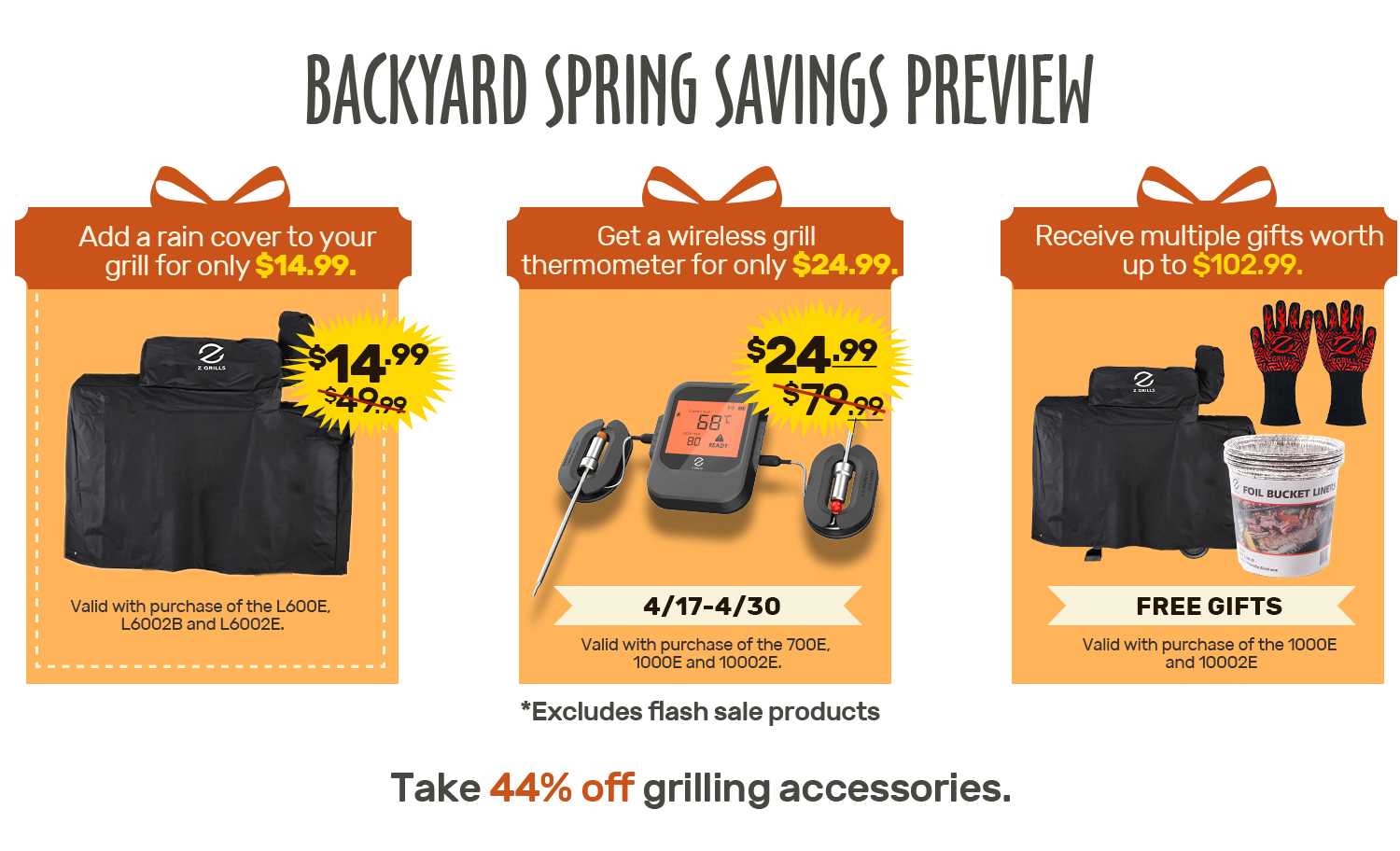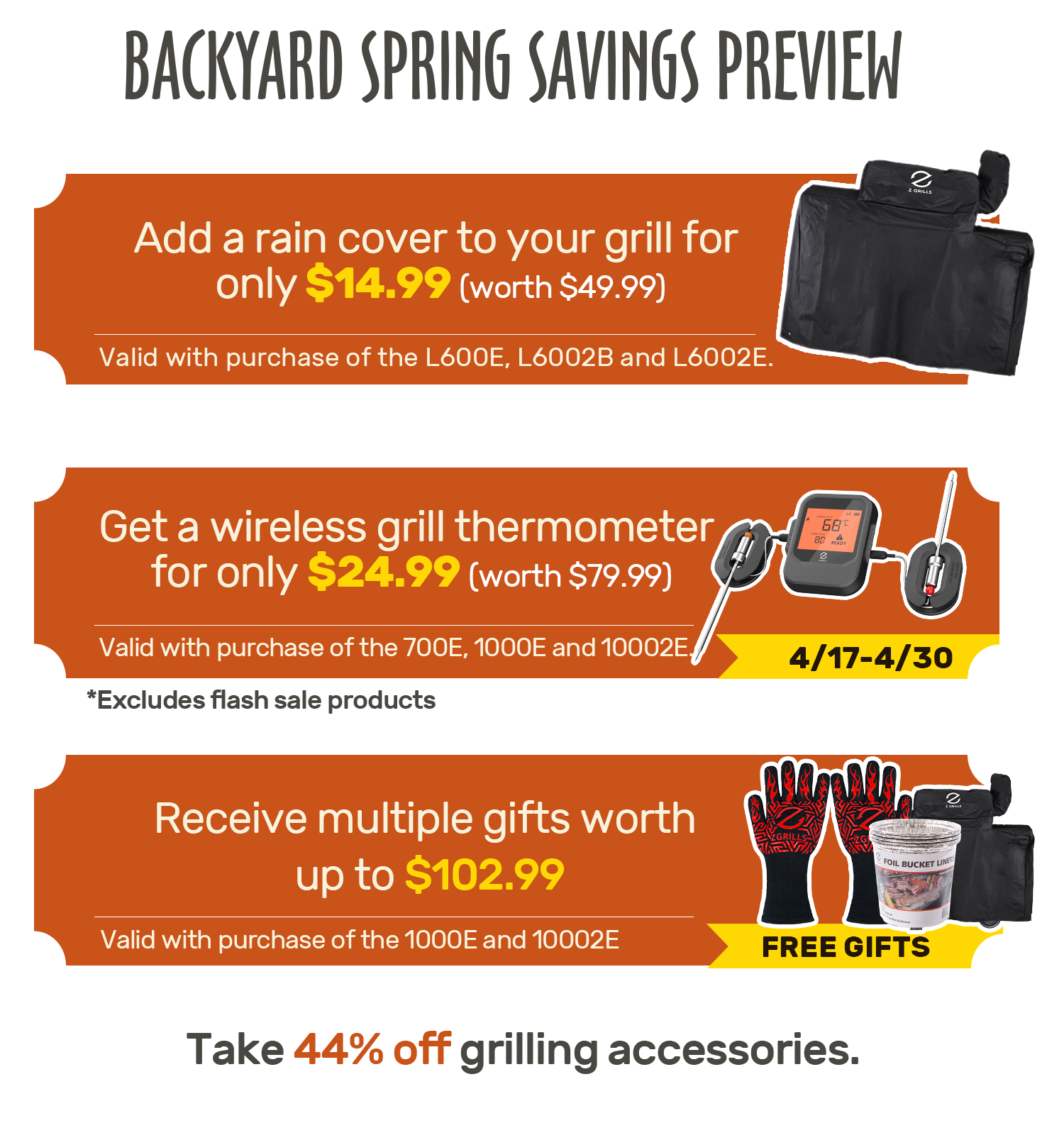 * Tap on the model for product quick view.
* Click the model for product quick view.
1-6
The Z Grills 700 series gives your food authentic wood-fired flavor and creates a social ambiance — all combined with the fun of cooking in your own backyard.
With 694 sq. in. of porcelain-coated cooking surface including a second tier rack, the 700 series is perfect for a group of 4 to 6.
Grill, smoke, bake, roast, sear, braise, barbecue, or char-grill — the choice is yours.
ZPG-700E ..................... $579.00 $699.00
Enjoy incredible barbecue and more with the Z Grills 700E. It's a heavy-duty grilling machine that's built to last and is perfect for all your backyard cooking needs.
ZPG-7002BPRO ........ ... $594.00
Execute the perfect meal every time with 7002BPRO.
ZPG-700D ...................... $629.00 $629.00
Large cabinet stores all your grilling tools, wood pellets, etc.
ZPG-700DPRO .......... ...... $679.00
Produce succulent food, in your own backyard, that proves you're a pro.
ZPG-7002E .................... $569.00 $569.00
Enjoy exploring limitless possibilities with your versatile 7002E.
6 or more
Feeding a crowd? With a whopping 1056 sq. in. grilling surface, the Z Grills 1000 series is ready to handle any size feast.
Fueled by all-natural hardwood pellets, these grills infuse mouthwatering real-wood aroma into every dish.
After indulging in your meal cleaning up is as easy as one-two-three with the express ash clean-out system.
ZPG-1000E ..................... $849.00 $849
ZPG-10002B ........... $629.00 $659.00
Convection heating process eliminates any flareups & the need to babysit the grill.
ZPG-10002E ..................... $599.00 $709.00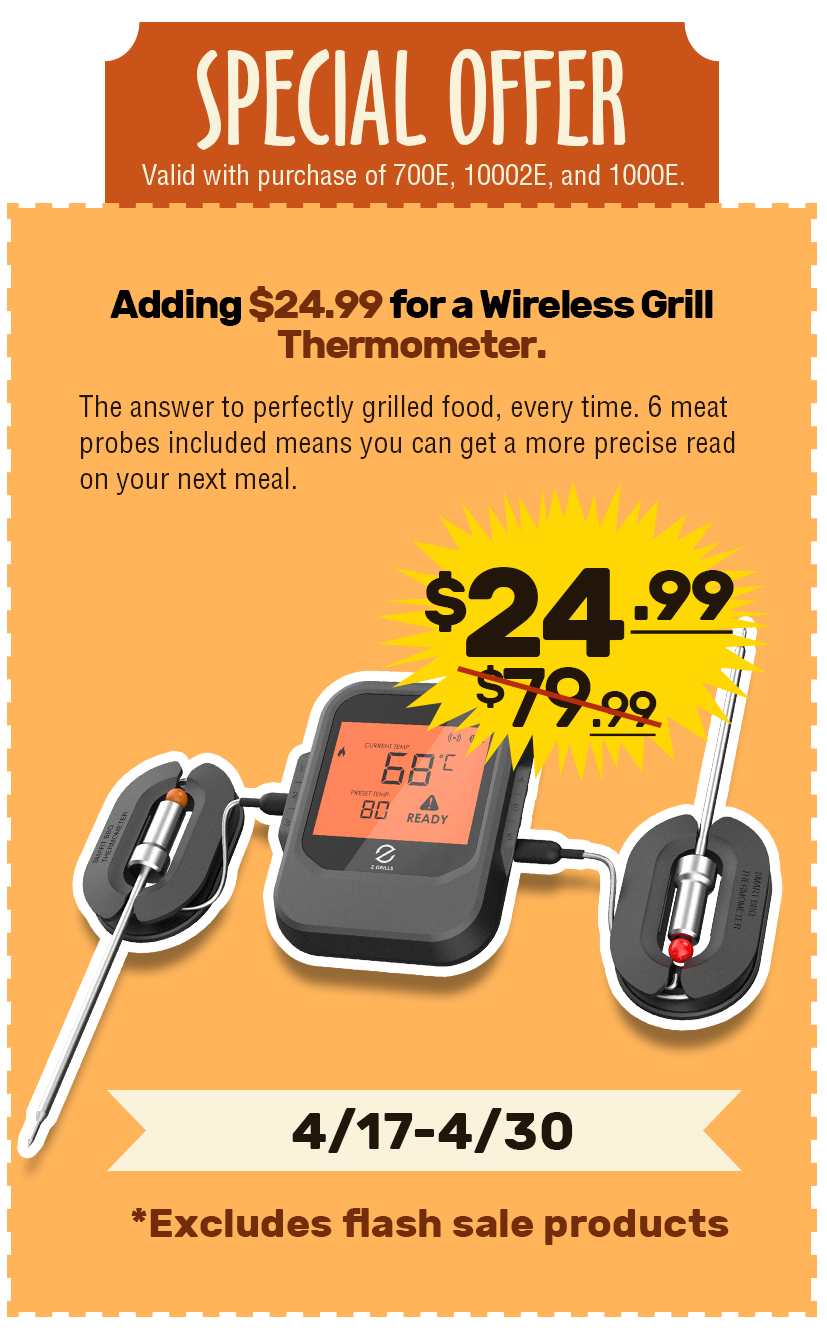 ZPG-6002B ..................... $429.00 $429.00
Create easy and delicious BBQ right on your back patio with the L6002B. With 572 sq. in. of cooking area there is ample size for briskets, roasts, full-size racks of ribs, whole chickens or turkeys, and almost any kind of fish or seafood.
ZPG-600E ..................... $439.00 $549
This 2021 NEW model packs an array of features loved by professional cooks and a newly designed cabinet makes it a new backyard go-to.
PID controller allows you to hold a tight temperature throughout your cook.
Easily switch between Indirect and Direct Flame mode for searing steaks to perfection.
A double-door cabinet stores all your grilling gear.
Side shelf with built-in tool hooks and a bottle opener.
ZPG-600E ..................... $439 $549
ZPG-6002E ........................ $429.99 $479
Discover the taste that you'll soon be longing for.
ZPG-550A ..................... $439.00
Smoking meats to tender perfection is no exception.
Whether prepping meats or flipping burgers, make sure you are always using the best grilling tools at every step you grill. Get the best tool now and SAVE up to 44%!
Features a double-sided design and is harder than maple, yet easier on knives.
All the main tools you need for a successful cookout.
Saving your decks, patios, and garage floors from grease stains & splatter.
Grill without the mess and enjoy healthier food without fats and oils.
The Flavor:
Z Grills Pellet Grills use all-natural hardwood as fuel, infusing your food with unmatched pure, hardwood taste.
The Ease of Use:
With digital temperature control, Z Grills does all the work for you. All you have to do is turn it on, set the temperature, and let it work while you have fun.
The Versatility:
Experience true versatility with the Z Grills 8-in-1 pellet smoker! Sear, smoke, BBQ, roast, char-grill, braise, bake, and grill – all-in-one.
Consistency:
Z Grills wood pellet grills provide consistent temperatures allowing you to master your cooking and get perfect results. Grill with confidence with Z Grills.
The Value:
Z Grill pellet grills give you authentic wood-fired flavor, are built rock-solid, and offer high-quality versatile grilling, while at a fair price. It's a great investment for those who love cooking outdoors.
Automatic Pellet Delivery: All-natural hardwood pellets are poured into a hopper. Once you set the temperature, a motor turns the auger which feeds pellets into the firepot.

Automatic Start-Up: Inside the firepot, a hot rod automatically ignites the pellets, while a fan takes in air and keeps them burning.

Fan-Forced Convection Cooking: Heat and smoke then circulate throughout the cooking chamber, ensuring even, consistent cooking.

Drip Pan Prevents Flare-Ups: A drip pan between the firepot and the grill grates keeps flame off your food to prevent flare-ups.
Use a Thermometer, Not Your Clock.
The best barbecue is done by temperature versus focusing on a specific cook time for each piece of meat.
---
Utilize the Upper Racks.
When cooking something prone to drying out, such as chicken breasts, place them on the upper rack to protect them from the radiant heat.
---
A Clean Grill Is a Happy Grill.
Clean your Z Grills once every 3 to 5 uses, depending on its condition. And it is easier to remove accumulated grease when the grill is still warm (but not hot).
---
Always Store Pellets in a Dry Place.
Store your fuel inside in a dry area free from flooding, mold, and excessive humidity. Moisture is the enemy of wood which will turn pellets into sawdust.
---
All-natural hardwood pellets loaded into the hopper.
Digital controller regulates temperature.
Induction fan stokes fire.
Auger carries pellet to firepot.
Hot rod ignites pellets.
Heat & smoke circulate through barrel.
Drip pan keeps grease away from fire.
"The Z grills is a new smoker/BBQ/general purpose cooker option that combines a lot of versatility into a relatively compact package."

Darrell Etherington


"If you don't currently own a smoker and are ready to experience delicious brisket, ribs and pulled pork...the affordable and high-quality Z Grills lineup."

Larry Olmsted

"Put simply, this grill gets you wood fire flavor with a level of simplicity usually only enjoyed by propane users."

Garrrett Hulfish

"These wood-pellet grill have an automated electric feed system that maintains temps from 180 F to 450 F so can" set it and think no more of it."

Kirk Miller